This post may contain affiliate links. Please see the disclaimer page for more info.
I think it is very important to have time to ourselves as homeschool moms. For me, that time is in the morning.
As mentioned in a previous blog post and video, one of the ways to avoid homeschool burnout is to make time for yourself regularly.
So, today I'd love to share with you what is in my mommy morning basket.
Morning Schedule
I set my alarm to 4 a.m. everyday except for Wednesdays and Saturdays.
It's set to 4 a.m., but I usually roll out of bed somewhere around 4:30 a.m. If I am tired for some reason, I will listen to my body and rest. But, usually I do get up before the kids wake up so I can have some alone time.
I say alone, but really my husband is up too. So, this is a great time for us to connect without interruptions from the kids.
Sometimes we do devotions together, sometimes individually. It just depends. After my devotions and reading, I will go right into working on this blog.
How I Started Waking Up Early
I was never a morning person. In fact, I used to stay up so late after putting the kids down for bed. I would sometimes stay up 'till midnight or even 1 a.m. just doing things that I wanted to do like watching shows, learn about blogging, etc.
I knew that staying up so late is not good for my health in the long run so I started looking into different ways to go to sleep early and wake up early.
But, I would fail almost EVERY. SINGLE. TIME.
I love to sleep and my body naturally needs 8-9 hours. If I get 6 hours, I am dragging or would get headaches. But, if I wanted to learn how to blog and be consistent, I knew I had to settle for 7 hours of sleep. That's pretty good, right?
Anyway, in my Google search for "How to wake up early consistently," I came across Crystal Paine's course, Make Your Mornings Over.
She's a big time mommy blogger so I thought, hey here's another blogger makin' it work, let's see what she has to say.
Turns out, the course was reasonably affordable so I signed up.
And boy, am I glad I did. Because it REALLY helped me prioritize and set up a system and routine to wake up early regularly.
If this is something you are interested in, check out her course or try out a FREE 5 Days To a Better Morning Challenge.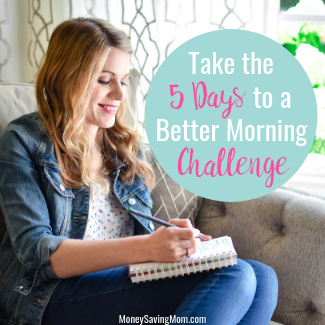 What's In My Morning Basket
I got my basket from probably a garage sale or off Facebook Marketplace. I really can't remember.
Here are the items in my morning basket right now.
Bible
Devotional book
Journal/Notebook
I like to start off spending some time with God. Either reading the Bible and/or a short devotional.
The Kindle, I got from my mom and still have to figure out how to work it but I am looking forward to using it.
My Current Reads
The Little Book of Common Sense Investing is written by Jack Bogle, the founder of the Vanguard Group, one of the major brokerage firms in the country.
If you are interested in index investing, check out this book. It is packed with hidden gems and is a great read.
At Home With Madame Chic is written by Jennifer L. Scott. She's a New York Times Bestseller author, homeschool mom, blogger, and YouTuber. You can find her videos here.
I love her positive attitude and it really comes alive in this book. If you are feeling like house chores and routines are a bore or drag, you must check this book out.
Wrapping Up
Alright, that's all I have to share for today.
If you have a mommy morning basket, would you care to share what's in it in the comments below? I'd love to hear from you!